Entrance:
No. 2, Tianjin Street, Taipei City
Hours:
Fridays 9 am to 4 pm (closed holidays)
Please make your appointment two days in advance (no later than 5 pm Wednesday that week).
Please download the tour booking form from the Executive Yuan Tour site. After filling out the form, fax it to (02) 3322-1599.
To check the status of your appointment, please call (02) 3356-6600 (weekdays 8:30 am to 5:30 pm).
Please enter through No. 2 Tianjin Street. Individual visitors should show a photo ID. For group tours, a representative should present a list of all visitors.
Public Transportation:
Bannan Line (Line 5) to Taipei Main Station (Exit M7) or Shandao Temple (Exit 1)
Zhongxiao Line or routes 15, 22, 257, 262, 605, etc. to the Executive Yuan or Shandao Temple metro stop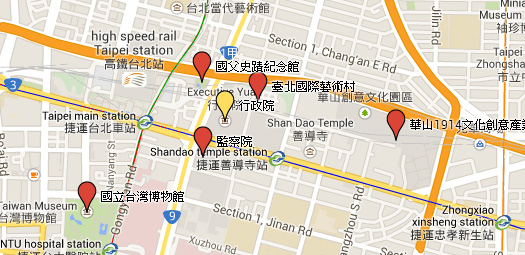 Upon arrival, please show proof of identity and pass through security check.
Please stay on the tour route and refrain from entering non-tour areas. Speak softly at all times.
Please do not carry signs or banners during the tour. Any appeals or requests to meet officials will not be accepted.
Please dress appropriately (no tank tops, flip-flops, etc.) and bring as few as personal belongings as possible.
No pets, food, tobacco or gum are allowed inside the complex.
The Executive Yuan will be temporarily closed to visitors if work is cancelled due to typhoon or earthquake, or if the tour areas are undergoing renovation or construction.
After unloading visitors, tour buses must park at nearby parking lots, not around the Executive Yuan. Individual visitors are advised to take public transportation. (See "Public Transportation" for details.)
Media Visits:
Applications for media interviews or visits are accepted and coordinated by the Executive Yuan's Department of Information Services.
The interview time and sites to be covered will be approved by the Department of Public Relations and the Department of Civil Service Ethics.
Procedure:

The Department of Information Services will notify the Department of Public Relations of the names of journalists and the interview time and sites to be covered.
Personnel from the Department of Information Services will accompany journalists throughout the visit.
The Department of Public Relations will assign volunteer guides to explain sites of interest.
The Department of Civil Service Ethics will assign personnel to assist in security matters.
Note: Journalist who do not apply for media interviews in advance will be received as regular visitors.
The Executive Yuan reserves the right to revise these conditions without prior notice.